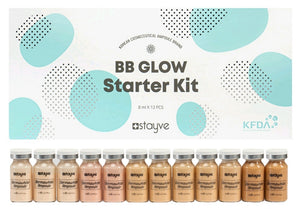 The BB Glow Starter Kit STAYVE Pigment
The Ampoules contain added foundation, combined with niacinamide and peptide for effective brightening and anti-ageing process. They allow instant hydration of the skin, leaving the skin feeling soft and plump. This treatment is perfect for dry, sun-damaged skin, pigmented and uneven skin tones, tired and sensitive skin requiring intense moisture. BB Glow Ampoules are great for: Instant hydration of the skin, providing gradual lightening effect, neutralizing free radicals, restoring radiant complexion and even skin tone, reducing skin discoloration, not clogging up your pores unlike applying BB creams or make-up foundation.
Serum includes all 5 different shades of the BB Glow Ampoules in one box for an easy use. You can choose the shades for your clients as per their skin type, level of tanning or their personal preference.