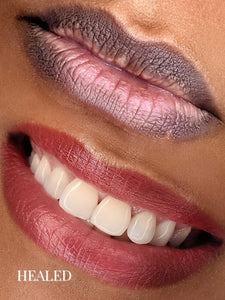 Dark Lip Neutralization is a specialized treatment series for those with cool or dark lips in which we neutralize the darkness in the lips to reach the desired color.
We look at your lips and neutralize them by canceling out the original color. With dark lip neutralization, we include the initial appointment as well as 2 touch-ups, if needed.
Each session is spread out at least 6 weeks apart. It may take 1-3 sessions to achieve your look, and there are special cases in which additional sessions are needed.
Typically, we will do dark lip neutralization in those who are Fitzpatrick Scale 3 and up.
1 day $1200 + Optional Kit $300
2 days $1800 + Optional Kit $300

PAYMENT PLANS AVAILABLE.

BONUS: BUSINESS DEVELOPMENT PROGRAM MATERIALS (which includes 41 ways to gain and retain clients)