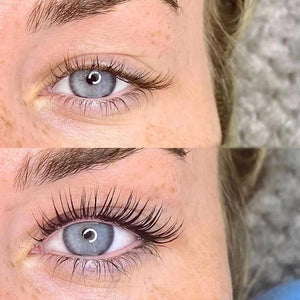 The procedure Velvet for L&B should be carried out only by a professional master who has been trained! It's the only way to guarantee a truly stunning and lasting effect of the procedure.
Advantages and differences "Velvet For Lashes & Brows"
What are the main advantages and differences of "Velvet For Lashes&Brows" from other procedures for natural eyelashes:
All services in their own way are good for creating an aesthetic effect and/or one-time care on the eyelashes. The main thing, and the PRINCIPAL DIFFERENCE of the service "Velvet For Lashes & Brows" from all other procedures for natural eyelashes is that it is the FIRST SERVICE IN THE WORLD, CREATING NOT ONLY THE BRIGHT VISUAL EFFECT (the eyelashes become volumetric, visually long, dyed, with lifting from the root and shine along the entire length), but also RESTORES EYELASHES at a MOLECULAR LEVEL from the roots to the tips, which provides not only a bright visual transformation of eyelashes and eyebrows but also significantly increases their number and length.
This training course focuses on acquiring the skills of the procedure Velvet for Lashes & Brows. It also explains some of the nuances and possible issues that can arise both from the master and the client. It's not a secret for anyone that success awaits the master who has a superb technique and is able to properly perform a procedure and can also answer all the questions that may arise and dispel the client's doubt. A high-quality procedure and courtesy in relation to the client is a good profit basis by increasing the number of visits and loyalty to the salon/technician. The product is developed in the UK. 
Cost:
$400 + GST

The starter kit is $450 (value $500) recommended for purchase, but not mandatory.

PAYMENT PLANS AVAILABLE.

BONUS: BUSINESS DEVELOPMENT PROGRAM MATERIALS (which includes 41 ways to gain and retain clients)