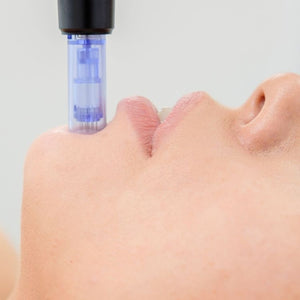 What is it?
Microneedling is a cosmetic procedure on the rise. It involves pricking the skin with tiny sterilized needles. The small wounds cause your body to make more collagen and elastin, which heal your skin and help you look younger. You might also hear it called collagen induction therapy.
Microneedling may help with issues like:
– Acne 
– Hair loss (also called alopecia) 
– Dark spots or patches on your skin (hyperpigmentation) 
– Large pores 
– Reduced skin elasticity 
– Scars 
– Stretch marks 
– Sun damage 
– Fine lines and wrinkles.
Microneedling is less expensive than laser treatments, which can cost about four times as much!
What you will learn:
– The history, improvements, and leaders in skin microneedling 
– Product usage protocols 
– Treatment guidelines 
– Indications and contraindications 
– Before and after patient care 
– Comparative and adjunctive skin therapies 
– Treatment and technical demonstration 
– Certificate available immediately 
– Interactive discussions/focus groups available
$800 + Optional Kit $950

PAYMENT PLANS AVAILABLE.

Kit includes:
- Microneedling machine
- Protective bandage
- Needle cartridge (10)
- Protective sleeve (10)
- Sheet masks (10)
- Mesokit (for 20+ clients)
- Repair cream (10 clients)
- Exfoliating gel 290ml
- Neutralizing foam 150ml
- Zensa numbing cream

BONUS: BUSINESS DEVELOPMENT PROGRAM MATERIALS (which includes 41 ways to gain and retain clients)