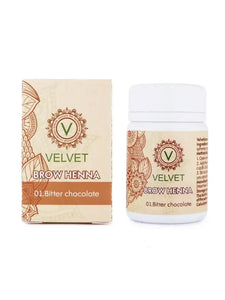 EYEBROW HENNA 1 JAR, 30 capsules
Eyebrow Henna is safer to use as it does not contain any traces of lead or ammonia.
Velvet Henna gives you effective spot coloring results and thus this eyebrow henna dye is one of the best professional products for coloring eyebrows with a tattoo effect.
It gives you a much superior result depositing permanent color effects and lasts for a longer time. It covers gray hairs in the eyebrow very nicely.
The color may last as long as 6 weeks on the hairs and 5-21 days on actual skin.
Natural henna is made in India. It has a great chocolate smell.
The advantage of storage is that there is no access of moisture and light to the powder, which allows you to preserve the quality of the product and the stunning result of painting for as long as possible. 1 capsule is designed for 4-5 procedures.
Instructions: Open one capsule and pour the contents into a measuring cup. Add the required amount of color activator to the measuring cup (8-10 drops per 1 capsule). Mix until the consistency of liquid yogurt. Wait 5-7 minutes. Now you can start the painting procedure.